Buy Rayban Lotion SPF-60 Online In Pakistan | Wisdom Pharma
Rayban SPF-60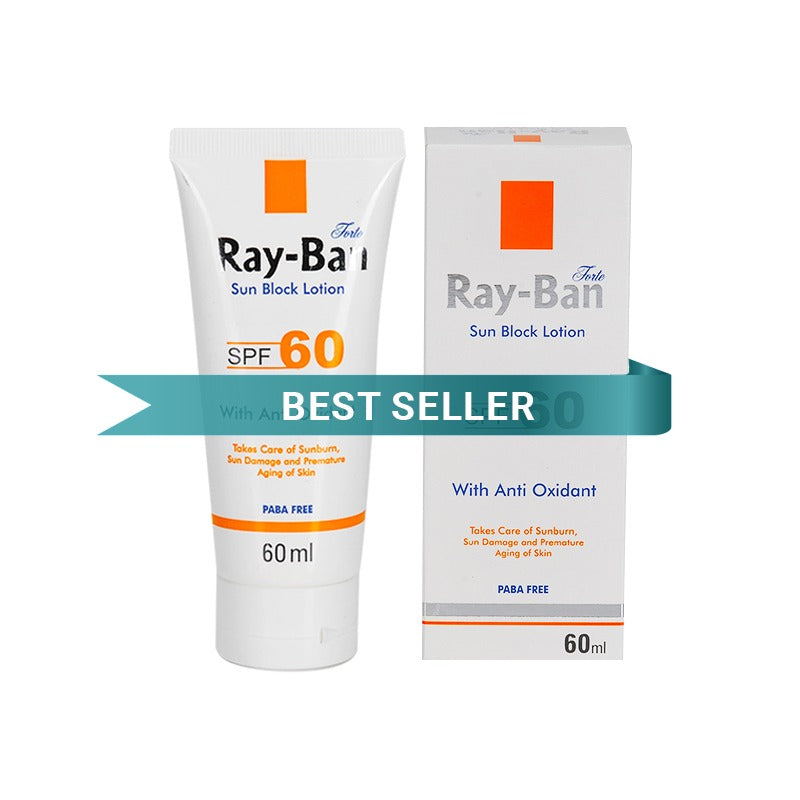 Description
Ray-Ban Forte formulated with infused Red algae extract, it offers superior broad-spectrum protection from aging UVA rays and burning UVB rays and blue light.
Benefits:
• Ray-Ban Forte sunblock offers broad-spectrum protection, shielding your skin from both UVA and UVB rays. UVA rays can penetrate deeper into the skin, leading to long-term damage, while UVB rays primarily affect the outer layer, causing sunburn.
• Ray-Ban Forte contain Red Algae extract which helps to treat various skin problems, including discoloration, hyperpigmentation, and melasma. Sunblock helps prevent these issues by creating a protective barrier and limiting the skin's exposure to damaging UV radiation.
• As UV rays can accelerate the aging process and cause visible signs of aging, such as wrinkles, fine lines, and age spots. By using Ray-Ban Forte sunblock, you can help prevent premature aging and maintain youthful-looking skin.
• Ray-Ban Forte protects from UVA and UVB rays as well as blue light So, it provides protection against and reduce the risk of developing skin cancer. Applying sunblock regularly can significantly lower this risk by providing a protective barrier against UV radiation.
• Non-comedogenic (won't clog pores)
• Fast-absorbing
• Oxybenzone-free
• UVA/UVB SPF 60 broad spectrum sun protection
• PABA-free

How to use:
1. Apply a generous amount of Ray-Ban Forte sunblock to all exposed areas of your skin before heading outdoors. Don't forget commonly overlooked areas such as the ears, back of the neck, and tops of your feet.
2. Apply Ray-Ban Forte sunblock at least 30 minutes before sun exposure to allow it to absorb into the skin and provide proper protection.
3. Make sure you cover all areas of your skin thoroughly.
4. Reapply sunblock every 5 hours, or more frequently if excessive sweating. Sunblock wears off over time, especially when you sweat, swim, or towel-dry your skin.
5. Apply Ray-Ban Forte sunblock as the final step in your routine, after moisturizers and serums. This allows the sunblock to form a protective barrier on your skin.

Rayban SPF-60
Regular price Rs.717.00 Sale Rs.896.80